It was the 26th of July 2011 when Typhoon Juaning slammed Bicol and poured heavy amounts of rain. The town of Malinao in Albay experienced one of the worst flash floods in their history. The waters were rising fast. During that day, Janela and her elder brother Edcel were helping relatives living in another house evacuate their place. The waters were as high as their chests but they just could not leave their relatives helpless in the flood. All of a sudden, Edcel, a Citizen's Army Training color officer of their school, remembered something. Nope, not their TV or their appliances. Not even his books or other stuff. He remembered that he left the school's Philippine flag in their home. Being the color officer, it was his responsibility to keep the Philippine flag safe and secure. As CAT officer, he could not bear to lose the flag in the raging flood waters. However, he could not also bear to leave his relatives alone. He could not just be in two places at once.


Perhaps it was an impulsive decision to tell his younger sister Janela to go back to their house and to retrieve the flag. Janela, who was then 12 years old, without even thinking twice, went out of their relative's house and went back to their own home. It was raining hard and the water was chest deep. To cross the deep flood water, Janela hang on to a rope previously set up by their barangay captain to help in the evacuation procedure. In her recollection, Janela did not even feel scared. In her mind was only one thing: to get the flag. In school, they were taught by their teachers how the flag meant to be the symbol of the country and of the Filipino people. They were taught how to take care of the flag and how to show the proper respect and reverence. But it wasn't the thought of the flag getting dirty. Janela was more concerned that her brother Edcel might be scolded by the school for having lost the flag.

Slowly but surely, through the heavy rain and flood waters, Janela was able to reach home, found the flag still hoisted in a pole already covered with mud. She tried to get rid of the mud, raised it high above the flood water and slowly found her way to the evacuation shelter where her brother and her relatives were safe and sound.

A resident of the town saw Janela wading through the rushing flood waters, snapped a picture of her and uploaded the picture in the internet where it spread like wildfire through social media. A few weeks later, Janela, her brother and some of her relatives, were invited to Manila where she received a formal recognition from the National Historical Commission of the Philippines for her bravery and selflessness.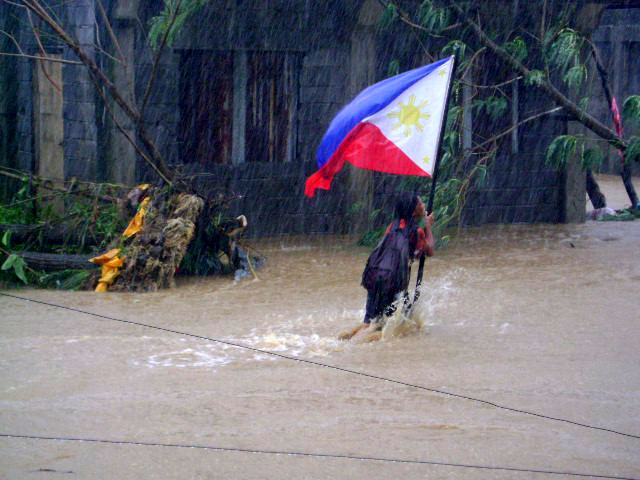 In a simple ceremony, Janela Lelis was awarded a plaque, a Philippine flag lapel pin and P20,000 in cash for what the NHCP called her "selfless act" of courage reflecting her love for the country. She also received a full-sized Philippine flag.

During her acceptance speech, Janela said, "We have a saying that the youth are the hope of our country. When the flood swept our place in Malinao, Albay, on July 26, this saying became true for me. I did not know that young as I am, I would be able to do something good for our country. My brother, Kuya Edcel, told me to retrieve our flag from the rushing waters and that was what I did."





Like it? Share it.